In conversation with Shadhona dancer Sinthia Yasmin Nupur
Written by: mela
Posted on: Friday 6th of May 2016 03:17:33 PM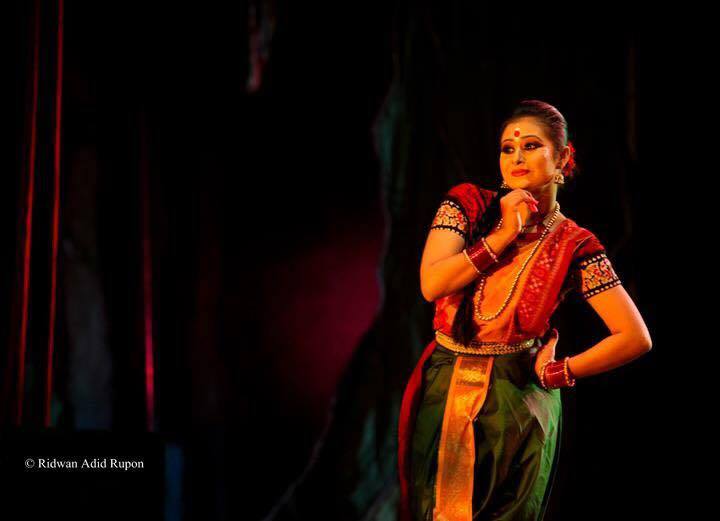 "Life is the Dancer and you are the Dance" Written by Lamia Saiyara Mela, dancer of Shadhona and a student of Arts
Sinthia Yasmin Nupur has been dancing ever since she was just 10 years of age, when she was under the tutelage of Sultana Haider, a prominent figure in the dance world of Bangladesh. After years proceeded, she started lessons under M.R Wasek, a renowned choreographer and dancer in Bangladesh. And around 2008, Sinthia started performing with Shadhona, where she has been consistent and obligated and of course, where I had gotten the chance to meet this dancer possessing beauty and elegance that continues to reflect in her performance.
Sinthia Yasmin Nupur under Shadhona and her past involvement with the dance world has successfully completed many workshops, classes, dance dramas and also competitions, that constituted a poised and fanciful dancer she is. Apart from her deserving recognition as a young dancer, she has been an active dancer for Bangladesh Television, and toured to many places showcasing her dance including Malaysia, India, Assam etc. With Shadhona, she has always been an intimate part of the family of dancers, dancing in dance-dramas including Hay Ananta Purna, Tasher Desh, Mayar Khela, Aye Amader Ongone and plenty more. Her refining moments on stage with her graceful expressions are one of the many attributes the audience never fails to immerse into as they witness her performances. Her performances graces not only stages, but at the moment it can be seen to grace the 3rd season of annual dance reality show of Channel I, "Mangolee Channel I Shera Nachiye", where she has been a participant and had topped to the list of the final 7 participants of the show.
Being an observer of the reality show, we have noticed her finesse and competence shining through with her performances at every stage of the competition, which propelled her to being one of the 7 deserving finalists of the Grand Finale which is about to be held on the 13th of May on Channel i.
With her strength and dedication about always being truthful to her path in dance, she continues to imbibe a quintessential beautiful dancer, who is always a delight to watch on stage. When I speak about dance with her, I notice her continuing and undying thirst for performance and learning. As much as an essential attribute that is for any artist, it articulates one to become incomparable and proficient what they do.

---
Leave a Comment:
---